Sci-fi Terrain Table Ideas
Inspire your next tabletop wargaming terrain project with these themed Sci-fi terrain ideas! As you can see below, many of the terrain pieces can be used in multiple settings, from Horus Heresy to Infinity, Necromunda, 40k, Cyberpunk games and even Modern Wargaming such as Spectre Operations!
Cyberpunk Terrain

Okay, you're probably not going to play like this, as you need to see your dice rolls. But it's a fun picture!

Infinity Terrain

The Trapper Biotech kits allow you to stack the modules in different ways to keep your games and table fresh!

Gunpla City Terrain

The 6-15mm range suits Gunpla dioramas and other mech games!

Desert outpost terrain

The flexibility of the terrain kits like The Institute make them suitable for off-world sci-fi tables.
Fight on different planets!

Not every city needs to be a ruin and not every building needs to be
Gothic ruins - It would be mathematically and practically impossible to
have the same architecture style and materials for diverse planets and
cultures!

Team Yankee Terrain - Cold War City

Brutalism was an architectural style which started in England and
France. It gained popularity worldwide including in the Warsaw Pact
countries during the cold war.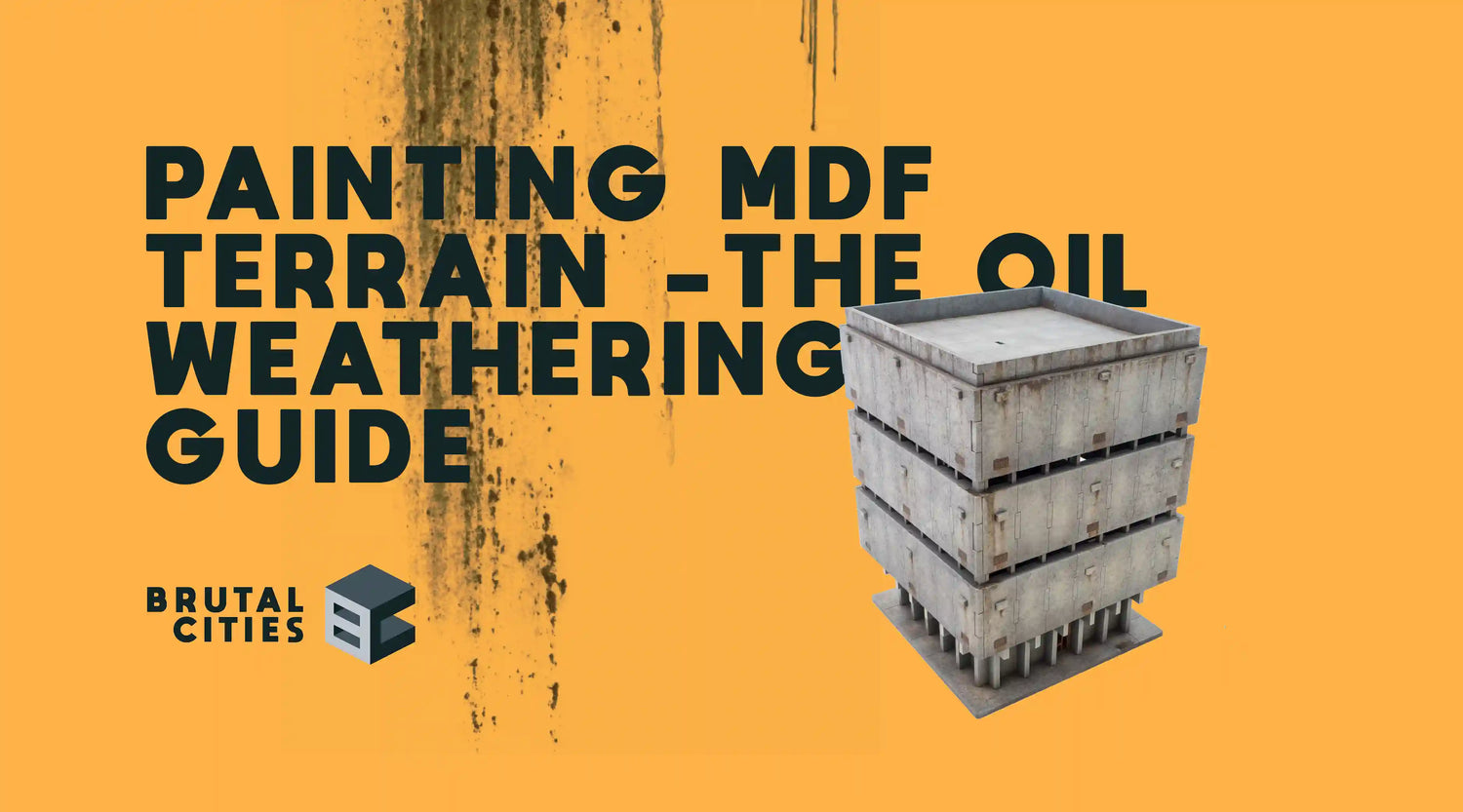 Sci-fi Terrain

The Bruteopolis Plaza Tower stands above the surrounding terrain. These kits suit Sci-fi settings and could be used for all manner of purposes.

Post Apocalyptic Terrain

A more empty table with dead grass and trees, rocks and rock spires made from XPS foam, with rusty abandoned structures.

Grave Trigger Terrain

A ruined city is the setting for a monster fight! Multi-levelled tall buildings afford many places to hide and ambush from.

Fortified Outpost Terrain

With a few Adamant walls you can cordon off your table or create fortified complexes to defend!

Trapper Biotech Research Station

The Trapper Biotech buildings and Hex Platforms paired with a water mat lets you create a floating research station.

Medieval/Fantasy Terrain

The Adamant Masonry Walls with Walkways and Battlements let you create modular terrain designs and ruined sections - perfect for medieval or fantasy games.

15mm City Terrain

The tall office buildings and public spaces mixed with natural elements lets the 15mm terrain shine. Ruins in the background show this is a heavily contested city.

Tournament Terrain

The tournament-friendly Eternity Labs table has a consistent paint scheme that ties the terrain together and leads to a cohesive wargaming experience.

Fantasy Skirmish Terrain

Some natural elements like tree armatures and walled sections makes this board ideal for skirmish or roleplaying fantasy games.

Modular Hab Terrain

Menacing kits close together with plenty of ladder access gives you plenty of options to use the verticality of the board to your advantage.

BattleTech Terrain

A large public building serves as a terrain centrepiece and compliments the 6mm scale. A mix of foliage and trees gives these walkers a stage to shine on during your battles.

City Ruin Terrain

Using a mix of intact and ruined buildings makes the table great for campaigns and interior play in a futuristic warzone.

High Rise City Terrain

By combining high-rise kits, walled terrain and an urban themed mat, you can create avenues for tanks while the infantry flank and use height to their advantage.

City Ruins Terrain

A few ruined apartments and office buildings instantly turns what would be a residential area into a great stage for multi-level firefights.

Cyberpunk Terrain

Playing around with acrylic signage and simple LED lights makes this table a cinematic and realistic cyberpunk city. The different heights opens up different tactical possibilites.

Gang Warfare Terrain

Urban apartments and underground clubs with plenty of graffiti transforms these buildings into gang territory. Step back narcs.

6-15mm Maschinen Krieger Terrain

The subway/bunker exit on the outskirts of a city allowed this force to quickly relocate and take the high ground in the coming conflict.