Brutal Cities
Regular price
€153,95 EUR
Regular price
€160,95 EUR
Sale price
€153,95 EUR
Unit price
per
Sale
Sold out
terrain scale/s: 28mm / 32mm / 35mm
Build a real wargaming skyscraper with 28mm modular city terrain 
What is the Bruteopolis Plaza Tower? Peachtrees? A bank? An office? Housing block? A public library? A data centre? The Baxter building? You decide. Modular wargaming terrain inspired by real brutalist towers.
This imposing kit transforms your tabletop into a city.
Standing at a whopping 655mm tall, this massive modular city terrain kit consists of several levels:
And if that's not enough (or somehow too much!) the modules are available
separately
. The Fadelight Module is now available too, allowing you to add a new level with translucent plastic to this tower. 
Fadelight Module (sold separately) on top of the Objective room base
We've brought you the largest floor plate we can
practically
ship, and it shows as it fits several rooms. Perfect for office firefights over the coffee machine!
The interior walls provide a playable layout with operable sliding doors with handles. The corridor is wide enough to fit 32mm bases.
The windows can
be popped
out or left depending on your preference.
The classic brutalist blade columns provide cover when fighting in the city streets.
The joints have been hidden as details and would look good painted as lights.
Share
SKU:BT-B7
Product Specificiations

weight:

scale/s: 28mm / 32mm / 35mm

dimensions: W x L x H
View 3D AR model on your tabletop

Click the second image (with the cube symbol) with a smartphone to view the terrain on your tabletop.

Iphone AR model Instructions


Please use Safari to view these 3d models to enable AR mode - Click view in space.


Android AR model Instructions


Clicking the 3d models will open the google app to view these 3d models and give you the view in space AR option.

These models were generated with Photogrammetry - they look bumpy but the real products are actually very clean and detailed!

Accuracy is within 1cm. Prioritize written dimensions over AR.

FAQ

Brutal Cities Frequently Asked Questions

I live in the EU or UK - what are tax/customs like?

Prices will update in your checkout based on amount in your cart - If you are over the respective UK and EU VAT thresholds we will not collect tax and the prices we show will be less - customs/post service will charge tax instead.

UK: For all orders up to £135 Brutal Cities will collect 20% VAT for the UK Government

EU: Brutal Cities is IOSS registered. This means that we will collect and pay VAT on order under 150 EUR. You will still need to pay EU customs VAT for all orders over 150 EUR.

How long does shipping take?

Our products are made to order - Median fulfilment time is 7 days. I ship once a week usually. It can take longer during busy periods. (It's also just me and and one laser!) I'll keep you updated if there are delays. I ship products weekly. Generally shipping takes up to 7 business days in Australia and approx 30 worldwide. See full policy.

 

What happens if a product/part arrives damaged?

Send me a photo of the damaged part or product at ryan@brutalcities.com and I'll ship out a replacement to you ASAP. 

 

Do you give refunds?

If there are any issues with your products we will send out a replacement. We don't offer refunds for change of mind purchases. Read our full policy

 

Does Brutal Cities have a distributor in my country?

No sorry!. This is something we're looking into but for now Brutal Cities doesn't have any international distributors. However there is free worldwide shipping for orders over $400 AU.
MDF terrain is supplied unassembled and unpainted.
View full details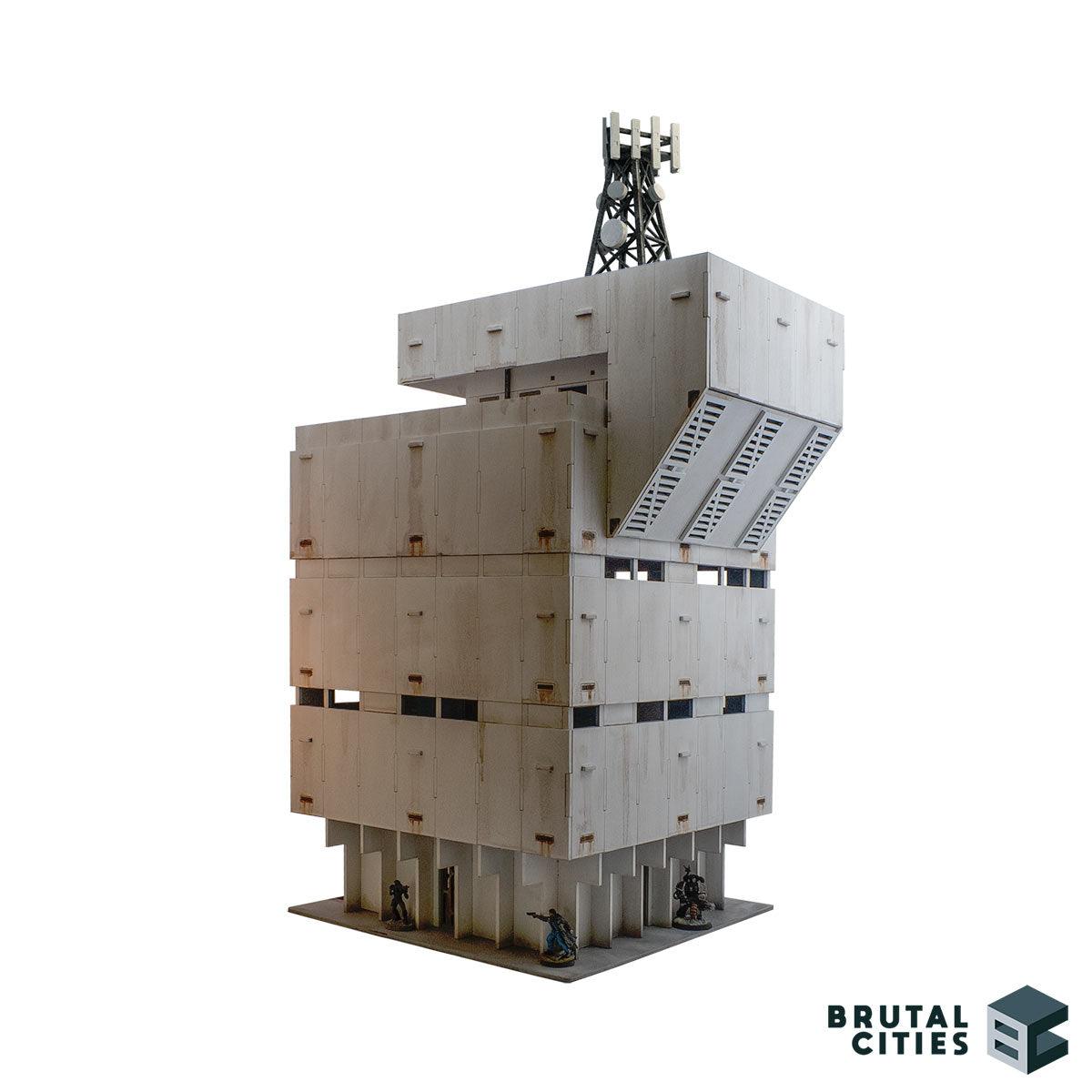 Customer Reviews
06/20/2023
A Beast of Building!
Easy assembly, great instructions via QR code. Once put together this model absolutely dominates a gaming table. Having a playable interior increases its usefulness.
Stu

Canada
It's a beast of a kit! Thanks Stu
06/28/2022
Recreating Game of Death scenario!
The centerpiece to my current collection of MDF buildings. It's huge and the removable floors gives me a lot of flexible to pretend that there are more floors than on display which allowed me to recreate a Bruce Lee Game of Death scenario for my adventure. And it is a fun place to run around in a skirmish game.
Grant C.

Canada
Hahah love to hear it! Designed exactly for those types of scenarios and interior fighting/objective rooms
03/04/2022
Absolute Unit Of A Building
Straightforward assembly with good instructions. Dominates a wargaming table as a monolith when fully assembled, especially with the comms tower on top. Recommend buying with an extra interior walls kit so both interior levels have walls, or cubicles kit for interior cover in the empty room.
Scott B.

Australia
Cheers for the review Scott! Glad you like the kit so much, it dominates
03/04/2022
Fantastic Kit
Beautiful aesthetic and engineering!
Tim K.

Canada
Glad you're enjoying your kit Tim. Thanks for the review