Bruteopolis Terrain Wave 4 - The Story So Far

Hey everyone! I thought I'd share with you some of the design philosophy behind the new release.
The Bruteopolis Range has expanded with thirty 28-35mm new terrain kits. Brutalist inspired, the range so far aims to balance the following:
Scale
- The designs are more realistically scaled than many other kits available on the market: ie they are BIG! Most building kits are three stories or more, to provide a real urban feel to your games.
Flexibility
- This minimalist terrain fits into multiple game settings, from modern games (1960s onwards), sci-fi, and even the dark future of the Warhammer Universe. Minimalist designs allow you to easily customise the kits if you wish.
   Gameplay - More places to hide with accessible interiors (especially in the Easy Access Range)! Model bases are considered, LOS blocking (or not), ease of use and cover have all been thought of.
   Durability - You'll notice there aren't many small parts that could break.
Minimalism
- While the terrain includes a few immersive details, the lack of fiddly small parts speeds up construction and painting, giving you more time to play!
Adamant Range - New Sci-fi and Modern Modular Wall System
But, what the range lacked was smaller kits and ways to quickly section off areas of the table and block LOS.
Enter smaller kits with flexible walls, gates, and walkways. If you're a fan of 40k, you'll find the L-shaped fortifications and wall modules in the new
Adamant Range
useful for tournament play!
The new walls had to be:
Affordable

Solid. I didn't want them to be easily knocked around

Able to be glued for those who wanted static layouts

Inter-lockable with other wall sections. This is to provide rigidity and structure for gameplay

Aesthetically flexible, but fit with the current range

Able to connect to the new Adamant L fortifications to create a larger complex

Suitable for LOS blocking, with options for firing ports
For narrative gamers, I wanted to create walls that could simulate breaches in a siege. The pieces fit snugly when intact and can be removed when taking damage! The walls have some proper weight to them, made from double-layered 6mm MDF, they feel appropriately sturdy.
52 Miniatures Collab
The new range was nearly finished. Until this arrived in my inbox...                
Alex from 52 Miniatures reached out and mentioned that he was looking for terrain to suit fantasy AND sci-fi settings. To save space, and avoid spending time painting two different terrain styles.  Alex was just getting into Stargrave, but also wanted to be able to use the terrain for Warhammer Age of Sigmar. He thought the Bruteopolis range could achieve that, and I was so intrigued that I agreed to send him the terrain he wanted.
Following his Youtube Channel, I was excited to see what he could do with the kits. To help him  I added a masonry texture to the new Adamant Walls to easily simulate stone for fantasy, or blockwork for sci-fi. Alex had the idea to design walkways that could slot into the walls.
Then since we were basically creating medieval castle walls, I had the idea for battlements that could slot on when used for Age of Sigmar, and removed for Stargrave!
For more about the terrain project, You can see me talk with Alex
here
. The video also includes a Brutal Cities workshop tour.

Alex also sent some photos of his current progress!
A combo of 3D printed texture onto the MDF substrate it seems!
The Eternity Labs kits - with battle damage! MDF is thankfully easy to cut, being a wood product. Just remember to wear a mask to protect you from dust!
Bruteopolis Wave 4 Terrain Design - Kit Notes

Read on for more information about the new kits and the ideas behind them.
305 Sunshine Alley

One of the downsides of stacking terrain is it can be fiddly to access the interiors. And you can easily forget your models are even there. My solution was the
Vantann Office Building
.
The building has a removable rear wall, and is narrow enough so you can easily reach the models hiding within. It is probably Brutal Cities most innovative kit and I really like using it in my games.  I have used it with Infinity, 40k Kill Team and Delta One Zero so far (it's also great to get photos of the battlefield from the insides of the building!).
So 305 is simply a continuation of the easy access idea, inspired by modern architecture. It was designed with a quick sketch one night whilst drunk about a year ago, and then I grabbed a hot glue gun, a blade and whipped it up. I returned to it in June, and CAD'd it up. The main differences from the Vantann designs are:
More hiding places 
Sloped skillion roof (No sniping in Infinity, as the roof isn't level)
More closed ground floor to block LOS
Smaller, operable windows with open or shut position
Much more detailed
Bruteopolis Plaza Tower - Section
While I am very happy with the Bruteopolis Plaza Tower, I thought that it would be really practical to create another version with a similar design to the Vantann Office buildings. So I did an alternate version of the Bruteopolis Plaza Tower that was literally cut in half. Now you can easily access the miniatures inside. Grab two of those and a long bridge and it's easy to create battles over a sky bridge, Dredd style!
Bus Shelter
A little story about this kit. This was a bus stop design I did 10 years ago in 2nd year architecture school. It was an assignment where we developed and abstracted a form for the bus shelter based on a random photo provided by the tutor.
The picture I had was of a cactus. The holes in the shelter are the stomata (tiny openings allowing gas exchange through the plant skin membrane) and the columns are...the spines! I remember the tutor wasn't that into it, and I didn't receive great marks. It might have been a bit too literal. 
But anyway, I think it's still the most beautiful thing I have ever designed, so after keeping the foam-core model in the cupboard for 10 years I decided it should see use on peoples wargaming tables! Hope you like it.
Subway / Bunker Entrance

Nothing fancy here. I wanted a piece of terrain that was suitable for people to use as either a bunker entrance or a subway. The sliding door helps achieve this. The stair locations are engraved to help people paint them on, and a handrail creates the illusion of stairs on a flat plane. 
The tab at the top doubles as a little tab to hold when you remove the door, and is engraved so you could paint a subway name/street number, paint it as a light or add some lettering.
Adamant L Fortification
Another simple kit. This kit was designed to block LOS in the style of commonly seen 40k tables. Both a ruined and intact version are available.
Stackable
LOS Blocking
Option to remove windows if preferred
Can combine with other L units to create a courtyard
Slots for Adamant Walls to create a fortress complex
Affordable
Ladders to provide vertical movement
DT-F13
A last minute design, I saw the new rules for Infinity ITS season 13. It's a small remote weapons system, like the ones in Aliens. The design was heavily inspired by the Turkish Gokdeniz CIWS. (Close In Weapon System)
 This is the first time I have tried engraving both sides of a kit. I wanted something that was able to pivot up and down. The ammo belt was mostly for aesthetics, I thought the profile looked better with that detail. The sensors at the top were to emphasise the fact that in Infinity, it has a 360° visor.
Maintenance Platforms
These kits came from the idea of placing miniatures on the exterior of the Bruteopolis Plaza Tower kits. But I wanted to make sure that they were also compatible with terrain with only 3mm wide walls like many of our kits, or other available terrain.
To do this, a simple hole and removable adaptor plug was designed. The platform needed to be large enough for a 40mm bases so it could suit larger models.
Aesthetically, I wanted the kit to look a bit like the platforms cranes load raw material into tower construction sites, or cleaning/painter platforms. I imagined that the hook arms wad a mechanical system that could self raise or lower the platform.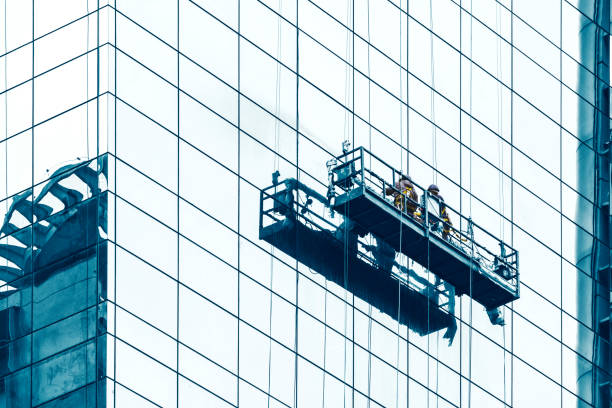 So there you go! Thanks for reading. Please comment if you have any thoughts or questions and I'll respond. I really look forward to bringing out new designs. Next year, expect a new range of kits. Something totally unprecedented. And at some point, 15mm kits!
Brutal Cities Black Friday Sale

Black Friday is around the corner, so venture out from cover and get some LOS on the 15% off store-wide, worldwide, and lowered threshold for free shipping for Australia and NZ!